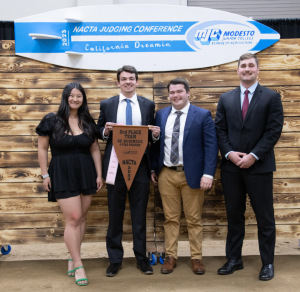 (Pictured L-R: Isabella Post, Zachary Smith, Jacob Kafer, and Jake Criter)
Four members of the Agricultural Business Management Club (ABMC) at the University of Wisconsin-Madison recently attended the North American Colleges and Teachers of Agriculture (NACTA) Judging Conference in Modesto, California.  This national judging conference was hosted by Modesto Junior College and the club members who participated included Agricultural Business Management (ABM) majors Isabella Post, Zachary Smith, Jacob Kafer, and Jake Criter.  Jeremy Beach, Advisor of the Agricultural Business Management Club, served as their coach.
The students competed in the Ag Business Contest which included two activities.  The first activity included an individual written exam that focused on key agribusiness areas such as micro and macroeconomics, finance, accounting, commodity marketing, sales, farm management, and law.  The second activity involved a group presentation on a previously-provided case study scenario that centered on the business model for a company that aggregated food from local producers and distributed it to schools in the Central Valley of California. The students worked as a team and presented their recommendations to a panel of three judges involved in the agribusiness industry in the Central Valley.  In both contests, the students were competing against other four-year universities. Zachary Smith placed fifth among all individuals on the written exam, and the four-person team placed second overall.
This national judging contest provides students with the opportunity to network and compete against their peers in agricultural programs across the country, while participating in an experiential learning opportunity that complements their Agricultural Business Management curriculum at UW-Madison. Funding for travel and participation in this event was provided by the Renk Agribusiness Institute.